[NSN-117]
Xanapril
Xanapril is a one-of-a-kind over the counter anxiety formula designed to dramatically reduce stress naturally.
We only use compounds that have been clinically proven in studies to ensure our customers get the best possible results in the shortest amount of time - all without causing side effects.
Xanapril is balanced with science and nature to ensure the most effective outcome, without the need of a prescription or doctor's permission. It is currently completely legal to purchase Xanapril over the counter in the United States. 
ORDER NOW
Natural stress & anxiety support tailored to your needs
Reduce feelings of anxiety & stress
Feel energised, remove mental fatigue and harness maximum brain power.
Improve focus and motivation
Start to 'do'. Think deeper for longer. Solve problems and still sleep soundly at night.
Quicken the onset of sleep
Protect your brain and create a brighter future for yourself.
Boost positivity and happiness
Instant long lasting effects when you need them most.
Aid managment of emotion
Make mental fatigue and down days a thing of the past.
Safe for daily use
Unrivalled anti anxiety power without the dangerous risks of addictive pharmaceuticals.
Choose the Xanapril package that's right for you
Note: Xanapril is designed for daily use over a prolonged period to fully maximise its effectiveness. Whilst results can occur in as little as 24 hours all new users are recommended to start with a full 60 day course or above.
Industry Best
Prices
Fast and discreet
shipping
Massive
Multibuy Savings
Made in an FDA
inspected facility
1-Month Supply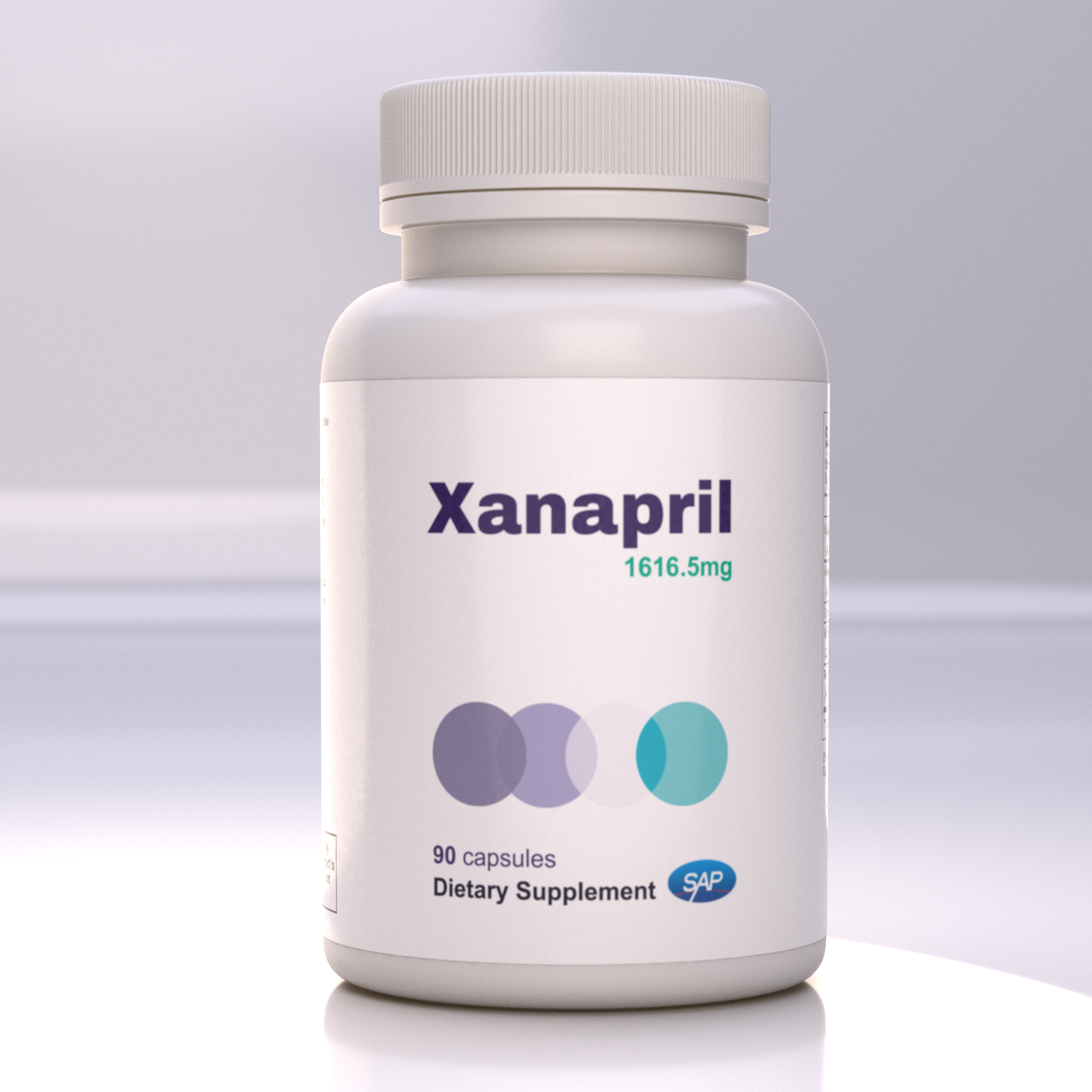 RETAIL:

$82
$69.00
Savings:$13.0
90 Capsules
Fast and Tracked Shippping
2-Month Supply
RETAIL:

$164
$138.00
Savings:$26.0
180
Fast and Tracked Shippping
3-Month Supply
RETAIL:

$246
$207.00
Savings:$39.0
270
Fast and Tracked Shippping
Clinically safe strength, natural compounds
Ingredients in Xanapril work to help combat the causes of stress and anxiety. This will help you better manage triggers and feel calmer and more focused when dealing with high stress situations, as well as relax and switch off when you should too!
Putting a stop to stress, anxiety and sleeplessness
Xanapril is a completely naturally derived solution with the aim of helping you, feel like you. By using the latest research we built Xanapril from the ground up. Enabling us to ensure we are a market leading OTC solution to anxiety and stress reduction. Without the nasty side effects.
Whether you are swamped with deadlines, struggling with sleep or just worried what the day may bring, Xanapril offers a true alternative to those seeking a safer yet high strength solution.
Powerful calming compounds, extracted from nature:
16.5mg Magnesium
(As Magnesium L-Threonate) 4% DV 500mg Ashwagandha (Withania somnifera) (R**oot) (std. to 5% Withanolides) 500mg Gamma-Aminobutyric Acid (GABA)** 400mg Korean Ginseng Extract (Panax Ginseng)(Root)**
200mg Rhodiola Rosea Extract
(std. to 3% Salidrosides)**
** Daily Value (%DV) not established

Warning:
For use by healthy adults only, not recommended for persons under the age of 18. Do not use if you are pregnant or nursing. Seek advice from a healthcare professional before taking if you have any preexisting medical condition to ensure it is safe to take this product. Vyvamind is not a substitute for medication prescribed by a healthcare professional. In case of accidental overdose, contact a poison control center immediately. Avoid alcohol and prescription stimulants while taking this product. Exceeding recommended serving will not improve results and may cause serious adverse health effects. Discontinue use and contact a licensed healthcare professional immediately if you experience unusual drowsiness, dizziness, severe headache, or shortness of breath. KEEP OUT OF THE REACH OF CHILDREN.